My best friend's wedding - part 2 (Dinner)
After walking around Anson town, we are so tired and the weather is not friendly enough. We went back to hotel and rest. Decide to sleep but
Wah
Keong
suddenly call me and mention he at the hotel lobby. He fetch his sisters to hair saloon for hair dressing preparing for tonight dinner. So he want to take a break at our hotel room. We are chatting and I perform some magic just for entertainment.
The dinner start at 6pm, we had to get ready at 5pm and start our drive to the restaurant which took us 30 minutes. The restaurant had no air-con but lucky the area is not so hot. Unlike KL and Penang which consist more building than flora. Unexpectedly,
Teluk
Intan
dinner are so sharp. Around 80% of the seat is full with guest at 6pm. Around 6.30pm, the dinner start. Unlike KL and
Penang
people, dinner state 7pm sharp but start at 8.30pm due to super over late
comerssss
.
The 1st dish such a
surprise
. It was so big place. We are so hungry and eat fiesta started. Our table only has 9/10 seated. I eat all I can. The food was so delicious. As I busy eating, I forgot to take pictures for all the dishes.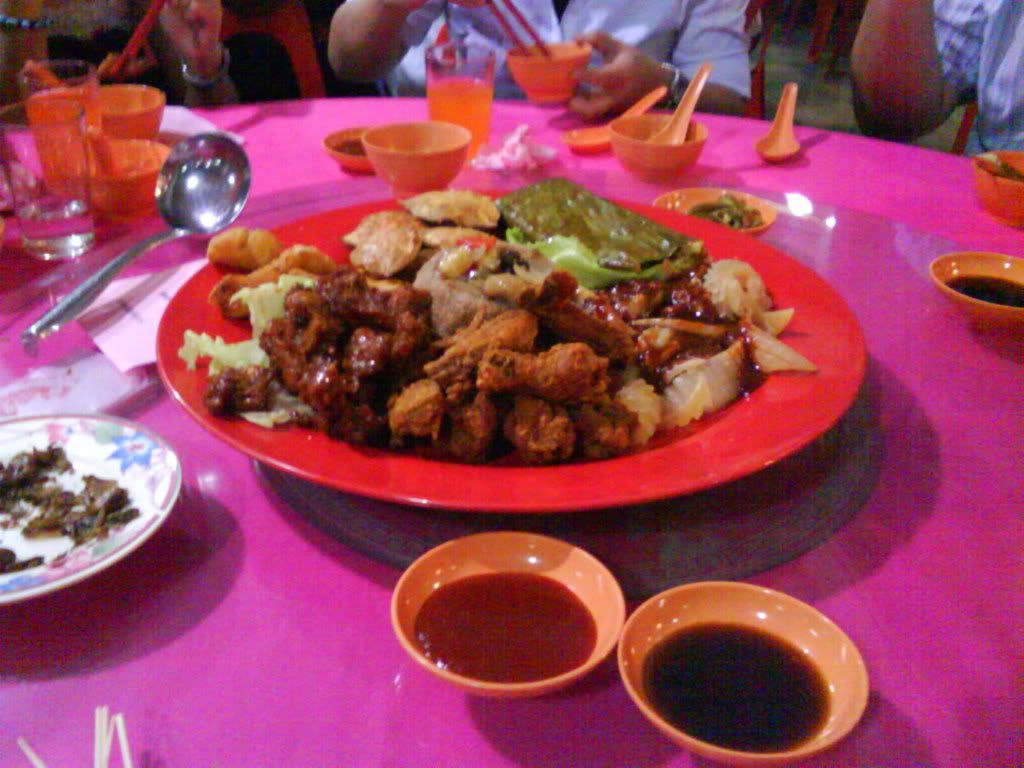 There are people singing on the stage, some are very good and some sing like choked parrot. I drink couple glass of beers. Half way of the dinner, 4 of our table mate leave because they need to drive back to KL and they are working on the next following day. So... 5 of us have to finish the rest of the dishes. Of course we can't.
Finally, we are over full. There are still lots of prawns left over. The last dish which is a dessert comes with ice-cream!! Yeah. All of the wedding I went, this is the one that give ice-cream as dessert. Yum yum. I was so full and very satisfied with the food.