Gary Feat. Crush – Shower Later (조금 이따 샤워해) lyrics with hangul, romaji, translation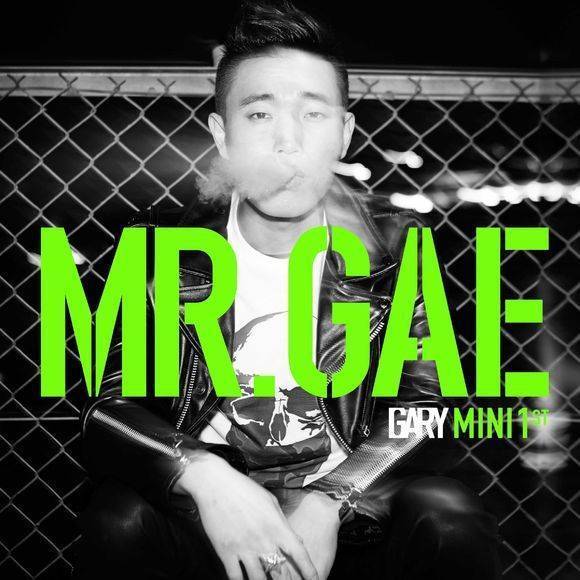 Running man Gary from Lesssang release his new first mini album name "Mr.Gae" on January 15, 2014. One of the track title "Shower Later" had become a hits in youtube. Of course due to his popularity as monday couple in running man variety show, the video become popular just on the day it was uploaded. Plus with the sexy erotic scene, it become even more popular. The song lyrics really sounds porn. And it also sounds like referring to Song Ji Hyo.
Below is the MV for the Shower Later.
And this are the screenshot of the erotic scene in the MV.
This pretty lady looks a bit like Kristen Stewart.
And a lot of boobs cleavage scene too.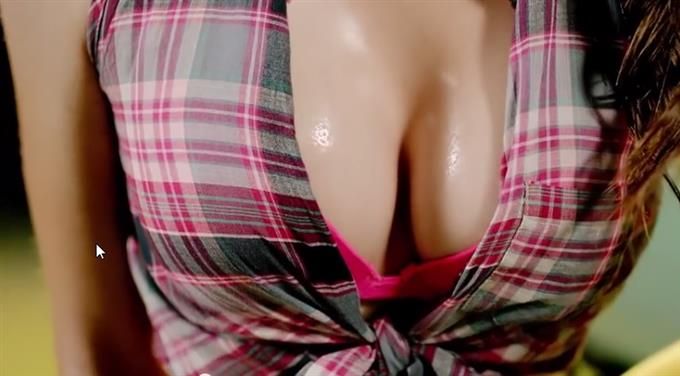 Also some popsticles sucking scene.
One lady in the MV which resemble Hyuna (from the Gangnam style).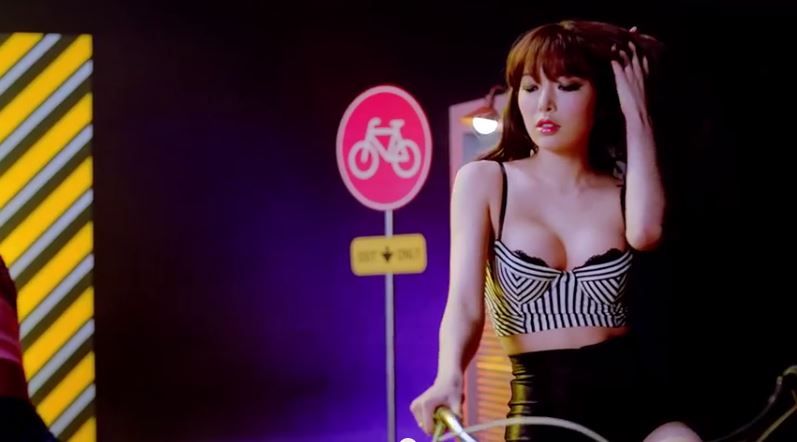 Also got some wet and boobs squeezing scene.
It is a nice song and "nice" MV. I manage to grab the translatation of the lyric somewhere on the net and combine it.
Lyrics as below:
조금 이따 샤워해 이대로 더 나를 안아줘
jogeum itta syawohae idaero deo nareul anajwo
Shower later, just hold me like this for a little bit more
이렇게 니 품에서 얘기 하고파
ireoke ni pumeseo yaegi hagopa
I want to talk in your arms like this
조금 이따 샤워해 이대로 더 나를 안아줘
jogeum itta syawohae idaero deo nareul anajwo
Shower later, just hold me like this for a little bit more
이렇게 니 품에서 장난 치고파
ireoke ni pumeseo jangnan chigopa
I want to play around with you in your arms like this
*** Rap ***
작지만 귀여운 너의 가슴이 난 좋아
jakjiman gwiyeoun neoui gaseumi nan joha
I like your small but cute breasts
니 머리카락 넘겨줄 때 손에 닿는 이마
ni meorikarak neomgyeojul ttae sone danneun ima
Your forehead that my hand touches when I brush back your hair
내 몸 위에 올라 날 바라보는 그 눈동자
nae mom wie olla nal baraboneun geu nundongja
Your eyes that look at me when you're on top of me
조명 아래 살짝 비친 하얀 살결의 빛깔
jomyeong arae saljjak bichin hayan salgyeorui bitkkal
Your white skin that is slightly reflected under the lights
날 미치게 하는 이 못된 여자
nal michige haneun i motdoen yeoja
You bad girl who makes me go crazy
때론 너와 사랑할 때 난 3년 만에 집에 온 뱃사람 같아
ttaeron neowa saranghal ttae nan sam nyeon mane jibe on baessaram gata
When I'm making love with you, it feels like I'm a sailor who has come home after 3 years
니가 날 거칠게 만드니까
niga nal geochilge mandeunikka
Because you make me rough
침대는 바다가 되고 우린 헤엄쳐
chimdaeneun badaga doego urin heeomchyeo
The bed becomes the ocean and we are swimming
서로의 상처를 치유하듯 부드럽게 어루만져
seoroui sangcheoreul chiyuhadeut budeureopge eorumanjyeo
As if we're healing each other's scars, we're softly touching
세상 가장 깨끗한 너의 품에 안겨
sesang gajang kkaekkeutan neoui pume angyeo
Embraced in your arms that is the cleanest in the world
내 더렵혀진 영혼을 다 씻어
nae deoryeophyeojin yeonghoneul da ssiseo
My dirty soul is being washed
이대로 더 있어
idaero deo isseo
Let's stay like this more
******
격렬하게 사랑하고서 땀에 젖은 채 둘이 누워서
gyeongnyeolhage saranghagoseo ttame jeojeun chae duri nuwoseo
After making passionate love, we lay down covered in sweat
오늘 어땠냐고 묻는 너에게 난 끝내줘 끝내줘 끝내줘
oneul eottaennyago mutneun neoege nan kkeutnaejwo kkeutnaejwo kkeutnaejwo
When you ask how it was, I say, it was awesome, awesome, awesome
우린 옷 벗고 사랑한 사이 더 이상 숨길 것 없어 세상 가장 친한 사이
urin ot beotgo saranghan sai deo isang sumgil geot eobseo sesang gajang chinhan sai
We made love with our clothes off, there's nothing else to hide, we're the closest to each other in the world
학벌 배경 차이 그런 거 따위 신경 안 써 서로 딱 원하는 타입
hakbeol baegyeong chai geureon geo ttawi singyeong an sseo seoro ttak wonhaneun taip
Education and background, those things don't matter, we're each other's types
서두르지마 오늘 밤은 깍지를 끼듯이 너의 허벅질 내 다리에 끼고 살을
seodureujima oneul bameun kkakjireul kkideusi neoui heobeokjil nae darie kkigo sareul
Don't rush it tonight, just like our hands intertwining
다 맞대고 삶을 말하고 싶어 오늘 하루 어땠는지 다른 별일은 없었는지
da matdaego sarmeul malhago sipeo oneul haru eottaenneunji dareun byeorireun eobseonneunji
I want your thighs to cross my legs, your skin to touch mine and talk about life
늘 궁금해 난 니가 지금 이순간 나에겐 너무나 큰 낭만
neul gunggeumhae nan niga jigeum isungan naegen neomuna keun nangman
I want to know how your day was, if anything special happened
삶의 난관 나의 방황 선과 악 그 모든 것이 다 두렵지 않아
sarmui nangwan naui banghwang seongwa ak geu modeun geosi da duryeopji anha
I'm always curious about you, right now, this moment, it's such a big romance
너와 내가 함께 있는 이순간 오로지 평화
neowa naega hamkke inneun isungan oroji pyeonghwa
Life's barriers, my wanderings, good and evil, I'm not afraid of any of those things
***Chorus***
조금 이따 샤워해 이대로 더 나를 안아줘
jogeum itta syawohae idaero deo nareul anajwo
Shower later, just hold me like this for a little bit more
이렇게 니 품에서 얘기 하고파
ireoke ni pumeseo yaegi hagopa
This moment that we're together, there is only peace
조금 이따 샤워해 이대로 더 나를 안아줘
jogeum itta syawohae idaero deo nareul anajwo
Shower later, just hold me like this for a little bit more
이렇게 니 품에서 장난 치고파
ireoke ni pumeseo jangnan chigopa
I want to play around with you in your arms like this
******
어둠 속에 보일 듯 말듯한 너의 실루엣 너의 실루엣
eodum soge boil deut maldeutan neoui silluet neoui silluet
In the blankets, I can barely see your silhouette, your silhouette
나를 감고 있는 너의 두 다리는 끝내줘 끝내줘 끝내줘
nareul gamgo inneun neoui du darineun kkeutnaejwo kkeutnaejwo kkeutnaejwo
Your legs that are wrapped around me are awesome, awesome, awesome
*** Rap ***
가끔은 내 앞에서 아직도 부끄러워하는 너
gakkeumeun nae apeseo ajikdo bukkeureowohaneun neo
Sometimes, you still get shy in front of me
난 니가 절대 안 질려 여전히 끌려 분명 우린 절대적 운명
nan niga jeoldae an jillyeo yeojeonhi kkeullyeo bunmyeong urin jeoldaejeok unmyeong
I'll never get tired of you, I'm still attracted to you, we're definitely meant to be
찬 바람 불면 니 얼굴을 내 가슴에 묻어버리듯 딱 붙어
chan baram bulmyeon ni eolgureul nae gaseume mudeobeorideut ttak buteo
When the cold wind blows, you bury your face into my chest, sticking close to me
나도 알어 때론 너도 힘이 들텐데 니 남자 기죽어 보이는 거 싫어
nado areo ttaeron neodo himi deultende ni namja gijugeo boineun geo sirheo
I know that it's hard for you sometimes but you don't want to see your man discouraged
널 허락하는걸 너란 여자 참 아름다워 늘 미안하지만 또 사랑스러워
neol heorakhaneungeol neoran yeoja cham areumdawo neul mianhajiman tto sarangseureowo
So you allow me to have you – you're so beautiful, I'm always sorry but you're also so lovable
********
나 혼자 남겨두지마 모든 게 완벽한 지금 이 순간
na honja namgyeodujima modeun ge wanbyeokhan jigeum i sungan
Don't leave me alone in this moment when everything's perfect
하얀 천사가 내 옆에 누워있네
hayan cheonsaga nae yeope nuwoinne
A white angel is laying next to me
날 바라보는 너의 두 눈에 살며시 키스해
nal baraboneun neoui du nune salmyeosi kiseuhae
I softly kiss your eyes that are looking at me
*** Chorus ***
조금 이따 샤워해 이대로 더 나를 안아줘
jogeum itta syawohae idaero deo nareul anajwo
Shower later, just hold me like this for a little bit more
이렇게 니 품에서 얘기 하고파
ireoke ni pumeseo yaegi hagopa
I want to talk in your arms like this
조금 이따 샤워해 이대로 더 나를 안아줘
jogeum itta syawohae idaero deo nareul anajwo
Shower later, just hold me like this for a little bit more
이렇게 니 품에서 장난 치고파
ireoke ni pumeseo jangnan chigopa
I want to play around with you in your arms like this
*******
사랑하자 촛불 하나 켜놓고 단 둘이 꽉 껴안고
saranghaja chotbul hana kyeonoko dan duri kkwak kkyeoango
Let's make love, with just one candle lit, tightly holding each other
사랑하자 촛불 하나 켜놓고 단 둘이 꽉 껴안고
saranghaja chotbul hana kyeonoko dan duri kkwak kkyeoango
Let's make love, with just one candle lit, tightly holding each other